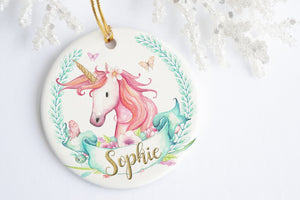 Personalized Unicorn Gift | Unicorn Christmas Ornament
Regular price
$14.99
$0.00
A young girl sits alone in a forest. She is very still, waiting. After a moment there is a rustle, a flash of glittering gold. Then through the trees she sees a flowing mane, sparkling eyes and a gleaming horn. The unicorn cautiously steps towards her until it is close enough to gently nuzzle her hair. This unicorn has found someone it trusts, someone to call a friend.
Inspired by a the wonder and magic of childhood
+ Measures 2.75 inches in diameter
+ Glossy porcelain ornament
+ Professionally printed permanent image
+ Includes gold string for hanging
Ships in 3-5 Business Days
You may also like...
---
More from this collection